Over $16 million raised for Library Advancement
Foundation supporters continue to fuel ongoing initiatives and ignite innovation. Here are the highlights.
YOUR ANNUAL GIFT IMPACT FY22
FY22 Annual Contributions
Community Read
The Library's month-long event Community Read inspires an active dialogue through discussions, book clubs and events hosted with community partners. The Library Foundation provided funds to ensure all community members had access to this year's selections. Over 4,500 additional books, eBooks and audiobooks were added to the collection.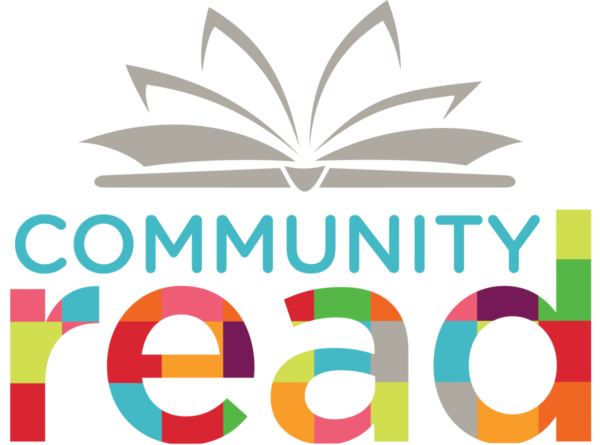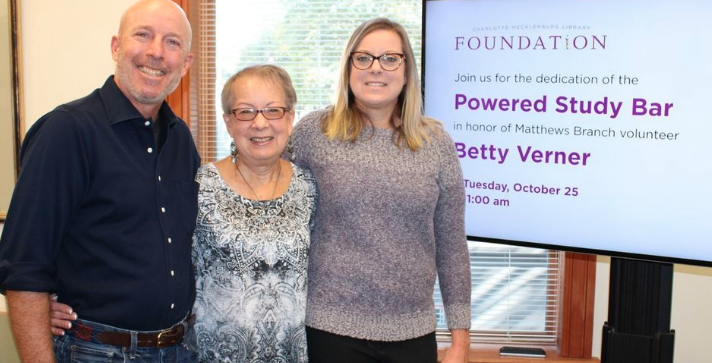 Branch Enhancements
From popsicles to powered study bars, your gifts helped fund facility upgrades and provided programming supplies.
Mobile Library
The Mobile Library (known as "MoLi") hit the road this year to connect people of all ages to the Library by lowering access barriers to our services. MoLi is more than a book mobile; the Library-on-wheels brings free WiFi and a mobile technology cart equipped with laptops, tablets and more.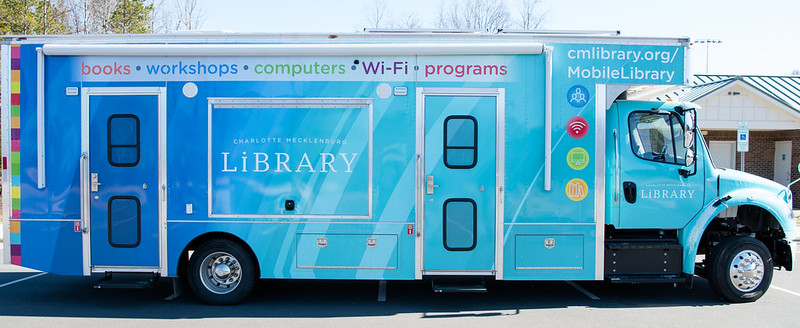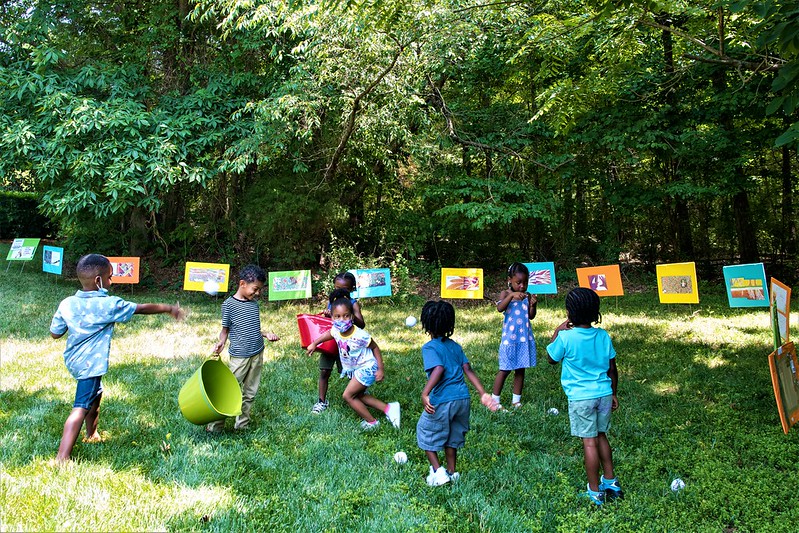 Summer Break
Summer Break is the Library's learning program, combining reading with a variety of other fun and educational activities. Community participants read 9.1 million minutes this past summer — 2 million more than last year! Your dollars help activate this popular and beneficial reading challenge.
ImaginOn Summer Exhibit
Some Assembly Required exhibit invited children and families to engage in fun and challenging activities that help foster the development of key social-emotional skills. The 1,200-square-foot display created in partnership with Build-A-Bear Workshop, Inc. attracted thousands to ImaginOn this summer.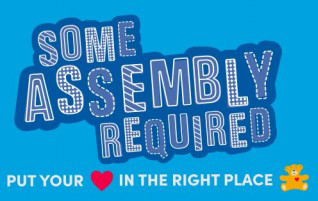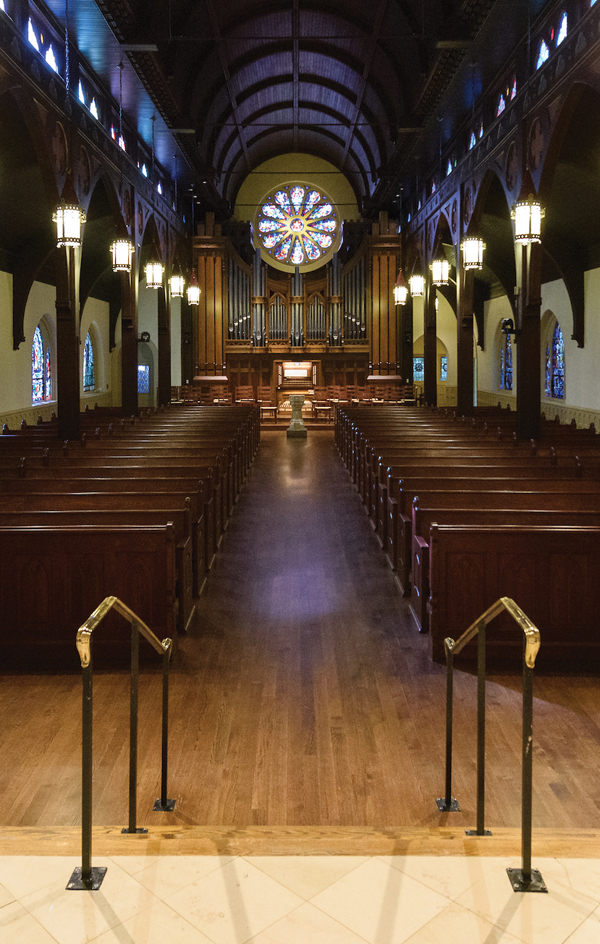 COMMONSPARK DONOR SPOTLIGHT
St. Peter's Episcopal Church
While a church might not seem like a likely contributor to a library capital campaign, Rev. Jacob Pierce sees many affinities between the two institutions.
"We are neighbors supporting neighbors," he said regarding the congregation's generous donation to the CommonSpark campaign, "Our shared history — with St. Peter's opening in 1834 and the Library in 1903 — bind us together on Tryon Street. We feel we are the heart of Charlotte."
"Particularly since the pandemic it's been so important for our members to reclaim a sense of place," Rev. Pierce, St. Peter's rector since 2017, notes that churches have traditionally been places where the community can easily gather and feel welcome.
"A church is one place to do that. And so is the Library."
YOUR COMMONSPARK CAMPAIGN GIFT IMPACT FY22
Total Dollars as of August 2022
During FY22, more than $15 million was raised toward the comprehensive goal of $143 million for a total raised-to-date of $118,429,847 for the CommonSpark campaign — 83% to goal.
The CommonSpark addresses an integrated set of needs including: a new Main Library with an innovative combination of resources, collaborative spaces, technology, and cultural experiences; Library Administration Center; systemwide technology, innovation and programming; an endowment for future needs; and annual operating support.
To learn more about the CommonSpark Campaign, please contact Jenni Gaisbauer at 704.416.0801 or jgaisbauer@cmlibrary.org.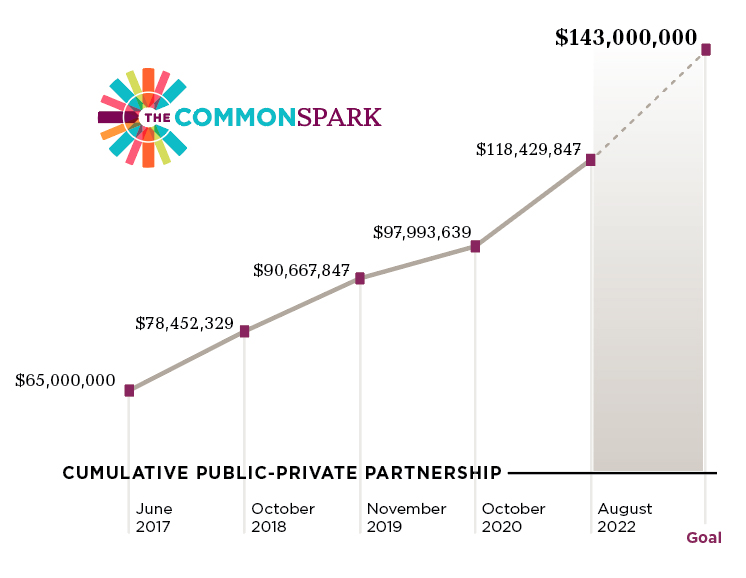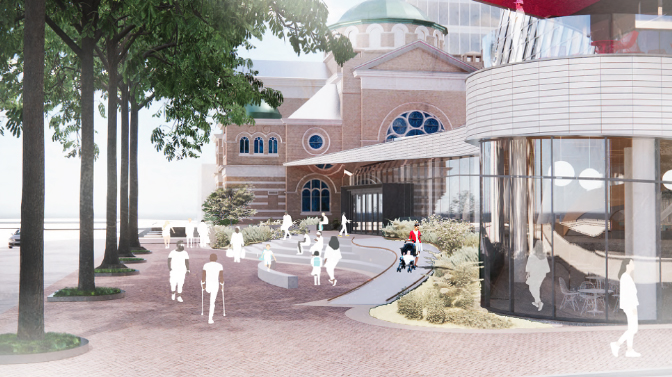 Rendering of new Main Library entrance on Tryon Street
FY22 Notable Gifts
The Estate of Doris Anne Bradley
St. Peter's Episcopal Church
Library by the Numbers
Take a look at Charlotte Mecklenburg Library's statistics for fiscal year 2022.