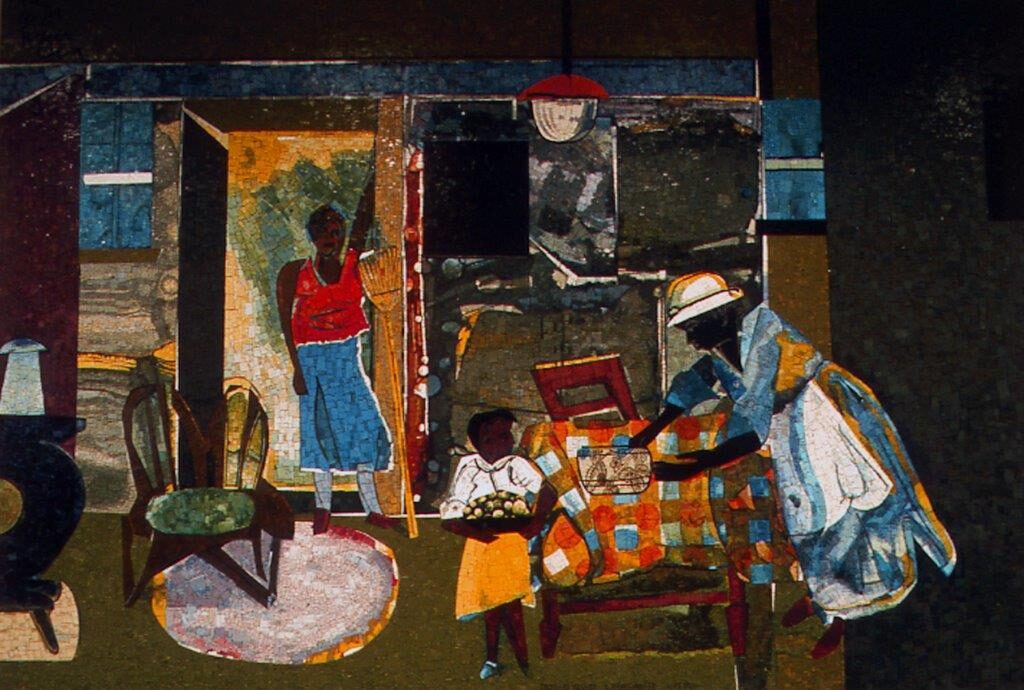 You're standing in front of a mural based on famed Charlotte-born collage artist Romare Bearden's work Before Dawn.
Charlotte Mecklenburg Library commissioned an original Bearden piece for the 1989 Main Library expansion, but the artist died in 1988 before it was created. Local gallery owner and Bearden expert Jerald Melburg worked with Bearden's wife to select Before Dawn and hired an Italian mosaic company to reproduce it.
Since 1981, a public art program has resulted in the creation of original works of art in public spaces throughout Mecklenburg County, including Library locations. The Public Art Commission has selected artist Tiff Massey to create an installation for the new Main Library.
In addition to public art, Charlotte Mecklenburg Library has a substantial collection of donated, commissioned and purchased art including glass sculptures gifted by Sonia and Isaac Luski, and children's book illustrations from major award-winning North Carolina author and illustrator Gail Haley.
This Bearden mural, along with new public art and other work from the Library's collection, will be displayed in the new Main Library.
This audio tour was created using resources from your Library's Robinson-Spangler Carolina Room.