"Knowledge and information belong to everyone."
On Monday, September 14th over 150 Library supporters gathered for the annual Carnegie Circle donor appreciation event. Instead of the usual formal dinner, this year's virtual gathering fed the soul.
In a conversation moderated by Library trustee Charles Thomas, author Susan Orlean discussed The Library Book, about the 1986 fire that destroyed the Los Angeles Public Library and her personal quest to find the arsonist.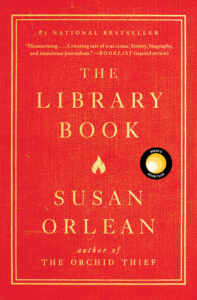 The conversation – like the book – explored much more than whodunit. Orlean and Thomas discussed why a fire in a library is about so much more than the destruction of a building. "Our feelings about a library are much bigger and deeper…whether you use the library regularly or not, there's a sense that this is important, it's the shared legacy of a society, and the loss of it is devastating." On the day after the fire, thousands of residents showed up to help.
Orlean noted that over 400,000 books burned and another 700,000 were damaged in the fire. To describe the scene, she thought it was important to burn a book herself. "Books are so much more than paper and ink. They contain some little element of humanity, and there's an incredible taboo around burning them. This is why oppressive governments have burned books – for the psychological and emotional impact. Seeing a library burn fills us with horror because it's the destruction of our heritage." Orlean couldn't choose a book until her husband suggested Ray Bradbury's Fahrenheit 451. "It's about a society that burns books – and Bradbury spent time in the Los Angeles Library and worked to raise the money to restore it. It was a fitting choice."
Orlean believes libraries evoke such a visceral reaction because of their timeless, universal message – that knowledge and information belong to everyone. The ways we access information have evolved, but libraries remain "the portal through which we can all pass and gain access to knowledge and information."
In researching the book, Orlean discovered today's libraries offer much more than she expected. "Everyone knows there are books. They don't know all the rest – the richness and depth of the materials, like maps and photos and rare collections, that live at the library – things you can't just find on Google. Also, all the ways a library interfaces with the community through literacy courses, citizenship workshops, business advice…libraries are places of unbiased truth, where you can learn about anything you want, essential to a healthy democracy."
Nearly 35 years after the fire, some of the books in the restored LA Public Library still smell of smoke. The fire is part of that library's story, and Susan Orlean reminds us that every community – including ours – has one.
It was the love letter and the comeback story we all needed to hear. Our Charlotte Mecklenburg Library, and all of our community, will return from this difficult year with renewed inspiration and purpose. We will gather and learn and grow and celebrate together, and we will continue to write our next chapters, together.
The 2020 Carnegie Circle recognition event was made possible with the generosity of presenting sponsor Bank of America and support from Foundation For The Carolinas.
About the Carnegie Circle
The Carnegie Circle recognizes and celebrates a special group of Library supporters whose annual gifts of $1,000 or more create a community where reading, learning and imagination thrive.
Investment in the Library comes from all parts of our community because so many of us recognize the Library's critical importance as one of society's great equalizers. Private support is a tangible endorsement of our belief that free and open access to information can change lives for the better and build a brighter future for the community we share.
The Carnegie Circle honors the rich legacy of philanthropist Andrew Carnegie, who donated funds to help build libraries around the world, including ours in Charlotte in 1901. We can't think of a better way to recognize those individuals, businesses and foundations who demonstrate similar philanthropic leadership today.