"on my nightstand since I received it"
For Davidson Library user Alleen Barber, Thursday, March 12th was a turning point.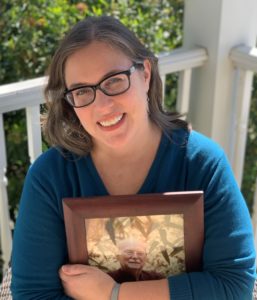 "The impact of the pandemic came to a head for me that day. My mother's doctor told her to cancel a planned family vacation and not to leave the house. My church cancelled in-person services. It all became very real." She found herself thinking a lot about her father, who passed away in 2006. Feeling unsettled, she visited the spot where his ashes are interred.
When Alleen returned home, she received a text from a childhood friend who had just received a mailing from the Charlotte Mecklenburg Library Foundation. It was the spring fundraising appeal that many reading this story likely received as well. On the cover was an image of a Library due date card from the 1960s…and on the card was Alleen's father's name, Rupert Barber, scrawled in his handwriting.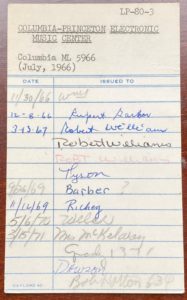 "I was overwhelmed, and I forwarded the photo to my mom. For this to come through at a moment when we could really use a connection to my father was just magical."
Alleen also reached out to the Library Foundation, to request additional copies of the mailing. "On Tuesday, March 17th everyone at my office was told to start working from home. The gravity of our situation was very clear, and I came home to find a package from the Library Foundation – with not only the mailers I'd asked for, but the original card with my father's signature on it!"
Alleen was unsurprised to see that the card was not from a book but a musical recording. A theater professor at Davidson College, he was a lifelong opera and classical music fan.
"To receive this card at any time would have been touching, but during such an unsettled and scary time, it was indescribably comforting. The card has been on my nightstand since I received it."
Your Charlotte Mecklenburg Library has been a part of our community for generations, and it will be for generations to come. Do you have a story to share? We'd love to hear it! Email us at foundation@cmlibrary.org.