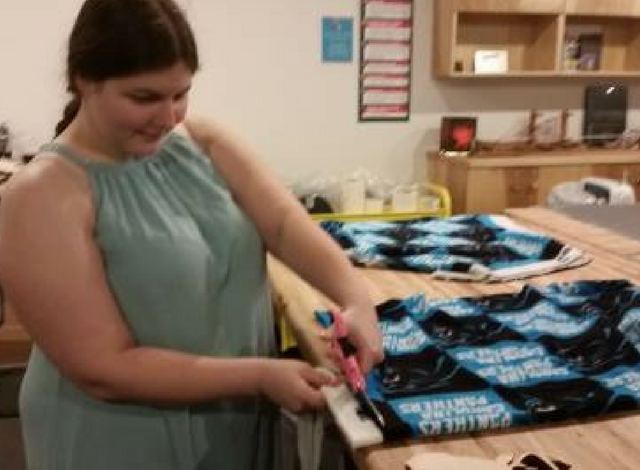 When Main Library's "Idea Box" makerspace opened nearly two years ago with partial funding from the Knight Foundation, the goal was to encourage Library users to get "creatively messy." The Idea Box quickly established itself as an accessible, affordable place to tinker with almost any new technology for building, designing and co-creating – including MakerBot 3D printers, CAD stations, vinyl and laser cutters, sewing machines, knitting machines, a laser engraver/cutter, and a growing list of other devices.

Library staff are trained to guide Idea Box users in the use of all this technology, to help each user grow as a maker. And lately they've noticed an outcome nobody anticipated: The Idea Box has become a valuable incubator for small and start-up businesses.

We asked Idea Box staffer Aubrey Hedrick about her observations:
Who typically uses the Idea Box?
There's really no typical user. We have people who come in just to see what's here and they get inspired by something they see and make a one-day project, and others who come back regularly to work on something more significant. We've had people make wedding gifts, cake toppers, jewelry, holiday decorations, costumes, laser-cut coasters, and so much more.  We see people who need a facility and equipment to do something they already know how to do, and others who are learning as they go. My favorite users value the whole experience as a learning process, mistakes and all.

How do people with a start-up or small business, or an idea for a small business, use the space?
So many ways. One regular user sells earrings at craft fairs, and she laser cuts the wood base for them here at the library. Another is developing a custom computer gaming system, and he uses our 3D printer to make prototypes of parts to try. We have a woman who is learning to sew in the Idea Box and is hoping to one day work as a seamstress. People are sometimes very interested in specific equipment, particularly the 3D printer, and want to try it out as they decide whether to invest in one themselves.
Business users typically come into the Idea Box with a specific idea and ask questions about the equipment and materials. We recommend a software for them to start with, and assist as needed. Often these users will make very small adjustments as they refine their process. I admire their patience.

What surprises users about the Idea Box?
Many are surprised that our material costs are so affordable, and that this type of space exists in a library. It's an interesting new way to think about our Library as a place that promotes all kinds of learning, where these emerging technologies are accessible. We let our users know that we use freeware in the Idea Box, so they can download the same software at home.

How has the room, its staff, and its users grown over time?
We've all learned so much. We see returning users becoming more expert at using the equipment, and their projects are increasingly sophisticated. The staff is learning all the time too – we learn from daily practice, and we ALWAYS learn from our users. Everyone brings different experience, talent, and ideas into the Box…and we all grow from the collaboration.

To learn more about the Idea Box, including hours and services, click here.