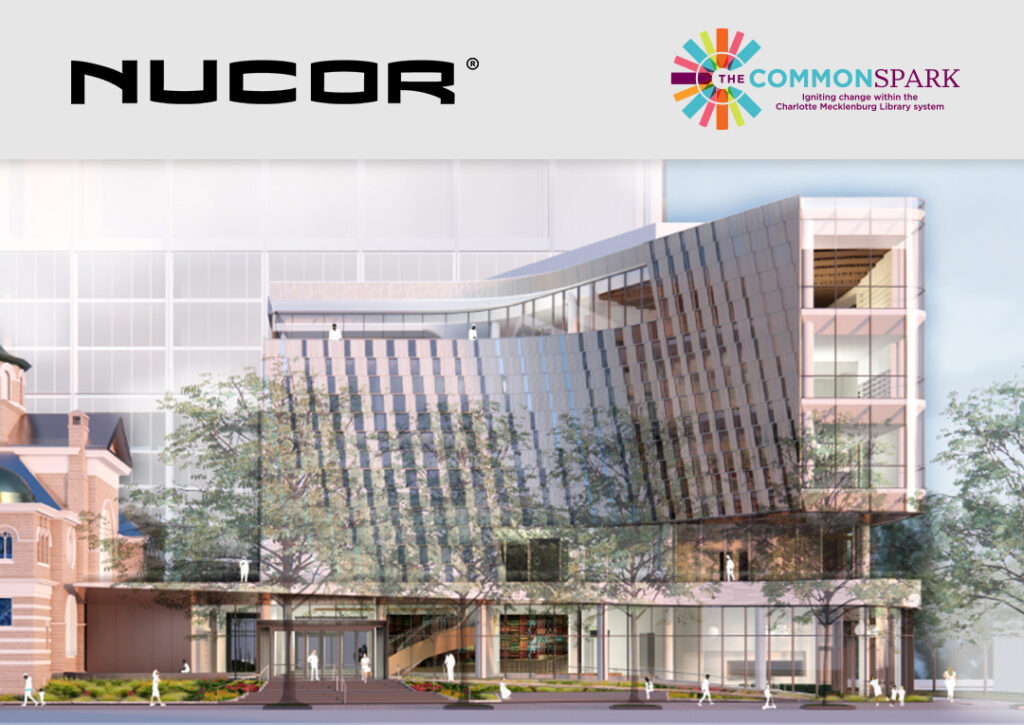 The largest steel producer in the U.S., Nucor joins the Campaign's roster of prominent Charlotte-based corporations
Charlotte, NC – January 4, 2023 – Charlotte Mecklenburg Library Foundation takes great pleasure in announcing a $1 million investment from Nucor Corporation to The CommonSpark Campaign. The Charlotte-based corporation is one of North America's most sustainable steel companies, already meeting the emission benchmarks set by the 2030 Paris Climate Agreement.
Their contribution brings the Campaign closer to its $143 million goal to construct a new Main Library in uptown Charlotte along with other innovative improvements throughout the 21-branch system. With this gift the Campaign will be $20 million away from its Main Library goal.
"We are so fortunate to live in a city where locally-based corporate partners see the intrinsic value of a healthy Library system," said Holly Welch Stubbing, co-chair for The CommonSpark Campaign, "the Library Foundation and I are so grateful for Nucor's galvanizing contribution to this project."
The new Main Library will be an awe-inspiring landmark for Mecklenburg County and beyond, a destination for dynamic programming as well as one-of-a-kind, serene spaces for traditional library lovers. It will serve as an anchor of Uptown's Seventh and Tryon redevelopment.
"It is a distinct privilege to contribute to building Charlotte's new Main Library," said Leon Topalian, CEO of Nucor, "This is our home, and our teammates and their families have dedicated themselves to being stewards in the communities where they live and work. The Library and this ambitious campaign bring us closer to fulfilling our commitment to building places that are sustainable, equitable, and strong."
The fifth-floor terrace in the new Main Library will be named in recognition of their generous investment. Designed to be a destination for community gatherings and beautiful views, the Nucor Terrace will be one of the few public spaces in Uptown Charlotte to enjoy the growing skyline and reflects the corporation's commitment to equitability and sustainability.
The CommonSpark is a comprehensive, $143 million public-private campaign to ignite change within the Charlotte Mecklenburg Library system. The campaign includes funding for construction of a new Main Library; renovation of a Library Administration Center; technology, innovation, and programming throughout the Library system; and an endowment for the future and annual operating support.
To learn more about the CommonSpark campaign and how to contribute, visit https://foundation.cmlibrary.org/commonspark/.