A Lasting Impact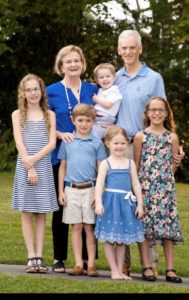 Molly Griffin is always looking ahead, and that's why she's chosen to invest in the Charlotte Mecklenburg Library Foundation with a planned gift.
"I'm so happy to be able to invest in this way. I've loved books since childhood, and I've always been a Library user. I'm also passionate about education and equal access to opportunity. The Library blends those priorities, and planned giving allows me to have a lasting impact on this community."
Griffin was a member of the Library's board of trustees when the Library Foundation was established. "I'm proud to have been involved in the birth and launch of the Foundation, such an important component of the Library's growth. As our community changes, the Library will play an increasingly important role in bringing people together. The future is very bright for the Library, and I'm glad to be a part of it, in every way I can."
Planned Giving
Planned gifts ensure the Library's financial security for generations to come. Anyone can leave a legacy gift of any size, and your Library Foundation welcomes an opportunity to work with you to create a structure that suits your personal passions and works within your overall estate plans. To learn more about planned giving, contact Karen Beach at 704-416-0802.