Amount Emily saves by borrowing this list from Charlotte Mecklenburg Library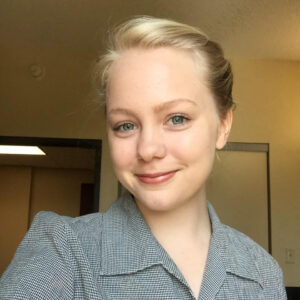 Emily Sears is studying political science at Queens University and served on the Engage HER planning team. Her reading list reflects her studies and the world around us.
THE MOMENT PRESENTED TO US: READING DURING A GLOBAL PANDEMIC
Say Nothing, by Patrick Radden Keefe: I traveled to Northern Ireland prior to the lockdown with my classmates, three professors, and our university's chaplain. We studied the thirty-year civil war, better known as the Troubles, in addition to the broader historical development of Ireland and Northern Ireland after partition. When I returned, I sought out more books on Northern Ireland because I wanted to continue the intellectual odyssey that had been spurred by our class and trip. Keefe's book is a transformational historical narrative that complicated my view of the Troubles and made me reflect more deeply on the stories I heard from people who lived through the conflict. Even if you are not familiar with this period in Irish history, I would highly encourage everyone to read this rich and multidimensional account of the Troubles.
In the Shadow of the Oval Office, by Ivo H. Daalder and I.M. Destler: We often forget the people behind the President who provide invaluable intelligence and advice to the Commander-in-Chief. I had the opportunity to embody the role of the National Security Advisor as part of a simulation in my Foreign Policy course last fall, and this book helped me navigate the subtleties, the intensity, and the structure of this role. I have a deep respect for the civil servants and others within the Washington D.C. apparatus, and this book reaffirmed that policymaking is a messy affair that requires unparalleled expertise in order to navigate the turbulent waters of the world order.
Womanist Ethics and the Cultural Production of Evil, by Emilie M. Townes: I, too, was daunted by this title. It was part of a course I took on the Problem of Evil, and it has fundamentally altered the way I conceptualize race and religion. Every sentence required me to pause and evaluate Townes' purpose. The intentionality of each word was awe-inspiring. I enjoy books that challenge me intellectually and require me to reexamine my perceptions of society. This text is, without a doubt, a contender for the most thought-provoking book I have ever read.
From Beirut to Jerusalem, by Thomas L. Friedman: This book is one I return to from time to time because of the rich storytelling intertwined with stark testimonies of violent realities in the Middle East during the late 20th century. Friedman's book contextualizes the intricacies of Lebanon and Israel/Palestine with unmatched narratives that are accessible to everyone, not only those interested in politics and international relations.
The Color of Law, by Richard Rothstein: If you have not read it, I urge you to get it at your nearest library. I believe it is vital to understand how racism was built into American institutions, and this book tackles that immense topic in necessary and enlightening ways. I read this as part of a course on Urban Politics and was awakened to the realities of American history which I had never considered before. Through this book, I became interested in housing issues and ended up as an intern/volunteer at Habitat for Humanity in Asheville and Charlotte, North Carolina. Rothstein's book launched me on a path I never imagined, and if that does not speak to the power of the written word, I do not know what will.
Madam Secretary, by Madeleine Albright and No Higher Honor, by Condoleezza Rice: These two books are paired together because they both served a similar function in my life: cultivated an even deeper reverence for the women who have broken barriers in the world of politics. The lives of these two women and the work they were able to complete in their respective roles are a tremendous inspiration. They never asked, "Am I capable?" Instead, they simply asked, "How can I serve my country?" While it is easy to argue the merits of each policy, I find that it is more important to recognize the courage, staunch integrity, and brilliance they each brought to their offices.
See No Stranger, by Valarie Kaur: Every sentence of this book is an awakening. It is an invitation to love all and to rehumanize even our most bitter adversaries. The moment we lose sight of our shared humanity, we invite conflict and misunderstanding into our relationships and perception of others. Valarie Kaur is one of the most prolific writers of our time, and I would encourage everyone to read her works and watch the documentaries she created about the experiences of Sikh Americans.
The Elegance of the Hedgehog, by Muriel Barbery: I end this list with one of my ultimate comfort reads. When I need to be reminded that there is great beauty in the world and that life is an immense undertaking that we have the responsibility to shape, I return to this book. It also connects me to my sister because this is her favorite book. She is seven years older than I am and has traveled internationally or lived in a different city for much of the last decade. When I am confronted with the overwhelming feeling of missing her, I pick up this book and instantly feel as if she is next to me reading aloud.
Emily Sears was born and raised in Waynesville, North Carolina, in the heart of the Appalachian Mountains. She is currently pursuing a Bachelor of Arts in Political Science at Queens University of Charlotte with minors in history, interfaith studies, and the university's Honors program. During her time at Queens, Emily has obtained several leadership roles including the President of the Interfaith Leadership Council, the Migrant Assistance Project campus coordinator, and the Civic Engagement Fellow for the Wells Fargo Center for Community Engagement. After finishing her undergraduate degree, Emily plans to attend a one-year master's program in the United Kingdom or Ireland where she will study transnational security, peace, and conflict.