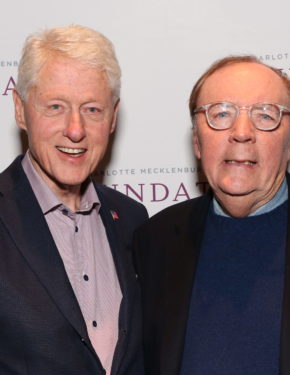 "If you could get reading capacity up to 90% of people…it would drastically improve their ability to concentrate. And if they can concentrate, they can listen as well.

…It might enable us to slowly build back a more civilized civic dialogue across party lines and other lines, and we could get a lot more done.

…I think the potential political, social and psychological benefits of increasing reading capacity are staggering."

-President Bill Clinton, November 29, 2018
Authenticity.
An authentic storyline was the goal for The President is Missing when Bill Clinton and James Patterson began writing. And an authentic love of books and literacy was the impression they conveyed to an audience of over 1,000 readers on November 29 at the Knight Theater.
Clinton, Patterson, and moderator Roy Neel – Al Gore's longtime chief of staff – had an easy rapport as they discussed topics ranging from why and how they wrote the book to the very real threats facing our nation today. The novel, a fictitious account of a president dealing with cyberterrorism, "had to ring true," explained President Clinton. "It's scary as hell because it reflects the reality of a president in crisis." The two described their process of writing in pencil, exchanging drafts and questions, and tweaking details up to the final moments to keep the story honest. The book's large cast of characters is intentional and reflects Clinton's experience in the White House: "diverse groups make better decisions than homogeneous groups."
They clearly enjoyed working together, learned from each other, and developed a friendship around a shared passion for literacy. Clinton commended his co-author, "James thinks a lot about what happens to a book – he supports independent bookshops and education, he values and shares the love of reading and writing." In addition to donating more than one million books to students and soldiers and funding scholarships, Patterson created a children's book imprint, JIMMY Patterson, with a mission. Patterson explains, "We want every kid who finishes a JIMMY book to say, please give me another book." Proceeds from the imprint are invested in pro-reading initiatives.
The importance of literacy to a strong community is core to everything Charlotte Mecklenburg Library does. As we move ahead with library renovations and a new uptown location, our priorities are built upon the belief that literacy strengthens communities, and that our Library can help to develop an engaged and educated community, a more resilient economy, and bring together a network of accessible resources.
An Evening with former President Clinton and James Patterson began with a peek at the writing process, and deeply resonated with the audience because it reinforced – with sincerity and authenticity – what this community knows: Libraries and literacy improve lives and build a stronger community.
Many thanks to our partners at Park Road Books for helping to make this special evening possible.