Sorting fact from fiction in an information-filled world
In our information-filled world, it's tricky to sort fact from fiction or opinion. Now more than ever, people of all ages are turning to the Library for guidance.
No Agenda
Information literacy is one of a librarian's most critical skills –and one everyone can learn. Librarians are formally trained to identify reliable (and spot unreliable) sources of information, and to help the public navigate an overwhelming media landscape. Dave Sniffin, the Library's Adult Services Coordinator, points out there are very few places to get completely unbiased information. Sniffin reminds customers, "librarians have no agenda other than inclusion and information. We never judge questions – we just help find the answers."
 
Growing Up Online
Library staff have noted a steady uptick in inquiries from students about reliable sources for research, as teachers are increasingly cautious about internet research. The Library's Teen Services department incorporates the basics of information literacy into Library overviews for school groups and individuals. Teens learn to distinguish between trusted websites that end with .gov or .edu and their counterparts with addresses that can be purchased and may be deceptive. The Library is working with CMS to educate students and teachers about how to find, use and cite the many vetted and verified Library resources available with a library card or a ONE Access account linked to a school ID.
Emily Nanney, the Library's Children's Services Coordinator, notes "children today are growing up with online resources, and it's our obligation to teach them to examine sources. Media literacy is a skill they'll need throughout their lives." Library staff regularly educate families and teachers about the difference between a Google search which can turn up anything, and using the Library's digital resources. Valuable subscription databases like PowerKnowledge and Lands and Peoples Online cite primary sources, have up-to-date facts, and incorporate interactivity like live webcams and video. Library databases for all ages are developed by experts and educators – and best of all, they're homework approved!
 
Tips for Everyone
Information literacy is the ability to locate, evaluate, and effectively use information.
Consider the source. Seek out reporting that is consistently as objective as possible.
Check the date an article was published and last updated. "Fake news" or opinions are often undated.
Research the author. If none is listed, that's a red flag.
Avoid social media as a source of news. Rumors spread quickly, and it is difficult to identify the origin of information.
Ask questions. Dig deeper if something doesn't make sense.
Diversify! News from multiple, unrelated sources can help you form your own opinion.
Explore verified Library resources.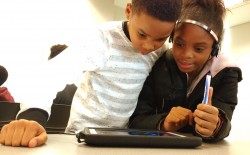 "I bring my students to the Library every year for an assignment that requires them to use and cite primary sources for a research project. Finding old articles on microfiche or a bound map from 1925 is magical – it makes history real and gives the information context. Graduates consistently tell me that the skills they learn from that Library visit help them all the way through college."

Beth Robinson, Woodlawn School teacher and Library user