This article originally appeared in the Spring, 2021 issue of the Library's print newsletter, Transformations.
Zoom is now the norm. Virtual medical appointments, classes, celebrations, even worship services fill our calendars. Job applications, interviews, and workplaces themselves are increasingly online.
What does this mean for the 10% of Mecklenburg County residents who don't have reliable internet service and the 20% who don't have a dedicated computer?
"They don't have access to essential information," says Seth Ervin, Charlotte Mecklenburg Library's Chief Innovation Officer. "Libraries connect people with information, and that's shifted from primarily physical books to an entire online world. Access to the internet, a device, and the skills to use both are critical. Until everyone has these tools, we have a lot of work to do."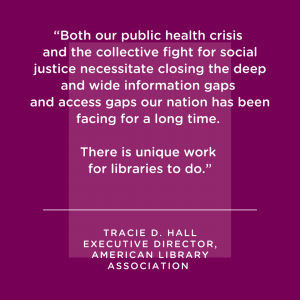 Mecklenburg is the only county in North Carolina to have a digital inclusion plan, and your Library has been a key stakeholder in its development and implementation since 2016.
Today, your Library is the convening institution for the Charlotte Digital Inclusion Alliance. This partnership of government, higher education, non-profit and business entities works to champion digital equity.
The COVID-19 pandemic has made closing the digital divide even more urgent, and using both public and private funding, your Library has responded with speed, new partnerships and innovation.
Laptop Distribution: By the end of January 2021 over 2,000 computers were procured, refurbished and distributed to households using CARES funds from both Charlotte and Mecklenburg County. The MeckTech initiative can be repeated and scaled, and was recognized by Urban Libraries Council as a Top Innovator in Digital Citizenship.
Park and Learn: With support from a state CARES grant, 24-hour public Wi-Fi networks now serve the parking lots at six Library locations.
Job Help: With funding from Vanguard, a new Job Help Center will open this summer at the West Boulevard Library location, equipped with staff and technology to support a virtual job search.
Outreach: A mobile library will hit the road this summer, bringing materials, technology, Wi-Fi and programs in English and Spanish to isolated neighborhoods throughout Mecklenburg County.
WISP: Together with community partners and a federal grant from the Institute of Museum and Library Services, your Library will create a sustainable wireless internet service provider (WISP) network in the West Boulevard corridor over the next two years.
Your Library's commitment to providing equitable access to a world of resources is possible because of you.
"We're stepping outside the traditional role of a library and becoming a national model for libraries helping to solve major community challenges," says Ervin. "The Library Foundation pushes my team to imagine the possibilities and refine ideas – and this community of donors helps ideas become reality."