Greater Charlotte Tamil language community group make generous book donation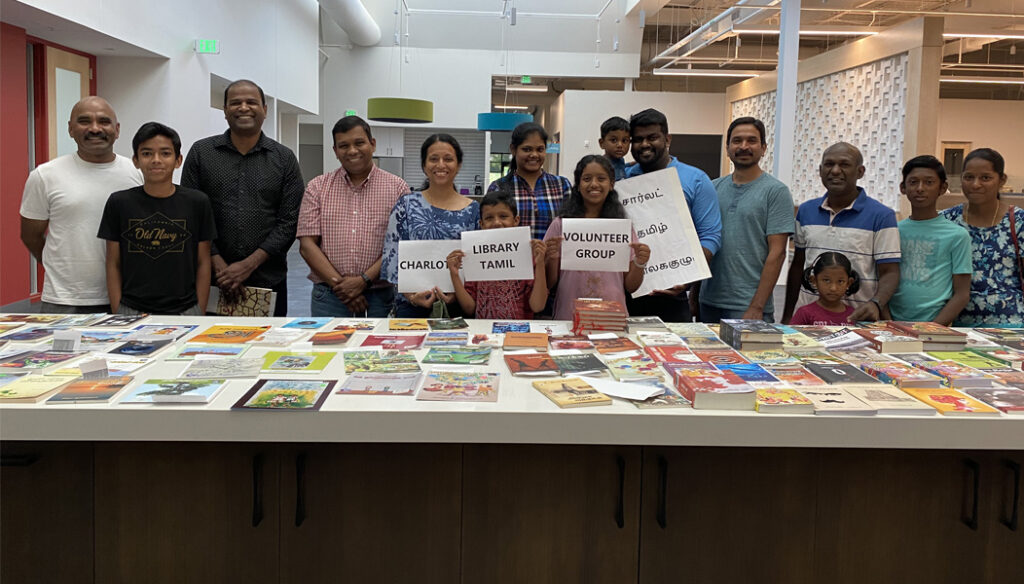 What does it take for a language to thrive for over 2,300 years (and perhaps even longer)?
If the Tamil language community in Charlotte is any indication, it takes a joyful and inclusive dedication to sharing the rich history of this ancient language.
Tamil is one of the official languages of Singapore, Sri Lanka, and the state of Tamil Nadu in southern India and boasts 75 million native speakers. Of all ancient languages spoken today it has the most direct line back to its classical roots in terms of its evolution.
"When you speak to Tamil enthusiasts, they may tell you it's the oldest language in the world, and in some ways that might be true! 
"According to Russian Linguist Dr. Mikhail S. Andronov, Tamil descended from Proto-Dravidian, a proto-language reconstruction, which may have been in use as far back as the fourth millennium BCE – and which, if true, would make it the oldest language on this list! But it's a little hard to prove. What we do know is that Old Tamil can be attested back to 300 BC. Which is still nothing to scoff at."
—Emily Duncan, "Top 10 oldest languages in the world," March 2, 2022
Charlotte Tamil Library Volunteer Group (a.k.a. Charlotte Tamil Noolaga Kuzhu) volunteered for several months to gather the most sought-after books. The group sourced books from India and from other Tamil readers in Charlotte. Each family also contributed $20 to encourage community participation. Each book was carefully catalogued for the Library.
"We have sourced about 150 of the most popular titles for all age groups," said Vimal Thiagaraj, one of the group's volunteer coordinators, "The good news is the community is coming along and working with us. We have close to 60 volunteers working on this, contributing their valuable time and donations. The response is overwhelming. Mikka Nandri ('thank you' in Tamil.)"
The group brought 120 of the 150 books to Charlotte Mecklenburg Library's new Administration Center (called the LAC) on June 6. They also brought most of their volunteers — some with their entire families in tow including children and toddlers. Ramya's 12-year-old daughter Varnika Anand shared why learning Tamil and continuing the cultural traditions is important to her.
"We want to carry Tamil through to our generations and I feel like Tamil School is a great way to learn Tamil and really spread the language," said Varnika, a student at Agaram Tamil Palli (Agaram Tamil School), one of two Tamil languages schools in Charlotte with a combined enrollment of over 800 children from grades K through eight, "I feel like putting books in the Library is a great choice because it will really give new people insight into the Tamil culture and language."
Megan Millea, fiction selector and Harold Escalante, assistant director of collections & access stewarded and managed the new collection for the Library.
"Charlotte Tamil Library Volunteer Group has been a wonderful community partner. They took the time to research and purchase books from India that are popular at other U.S. public libraries so it will be easy to add them to our collection," said Megan Millea.
The group also plans to donate Tamil books quarterly as well as making gifts directly to the Charlotte Mecklenburg Library Foundation.
We thank Charlotte Tamil Library Volunteer Group for procuring and sharing these incredible books with all Library patrons. In Tirukkural by Thiruvalluvar, he writes:
The rarest of all the rare gifts known

Is cherishing great men as our own.
The Charlotte Mecklenburg Library Foundation cherishes the people of the Tamil community and their inspiring gifts to our community.
A moral compass in couplets
Tirukkural written by Tamil poet and philosopher Thiruvalluvar in 500 CE contains 1,330 couplets, or kurals, expounding the values of virtue, wealth, and love. It is considered one of the greatest works ever written on ethics and morality. An important part of Tamil people's everyday life, the work is still taught in Tamil schools today; children learn 10 to 15 kurals by heart and can recite them long into adulthood. The book is included in the generous contribution and includes an English translation of the Tamil as well as an interpretation of the couplet.
When will the Tamil books be available?
The books are currently being cataloged by Library staff and will be available for loan by the end of the summer. Patrons will be able to search for the books by their Anglicized name and in Tamil. An announcement will be made when the books are available via our social media so be sure to follow the Library Foundation.