by Anna Stallmann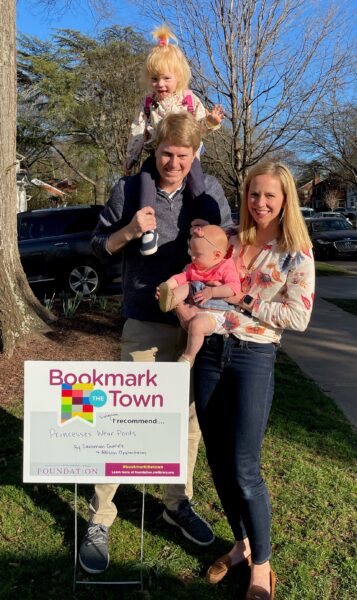 About this time each year, the weather turns warm(er), the days grow longer, and spring blossoms begin to bloom. As a result, you'll see kids outside on their bikes and drawing on sidewalks, neighbors tending to their gardens, and a steady flow of people getting some fresh air.
Last year as quarantine and stay-at-home orders were settling in, being outside for a mid-day walk was certainly a highlight of the day for many of us. It was a break from the endless zoom meetings or pent up energy with kids at home, and provided a small opportunity for safe socialization.
For my family, that mid-day walk gave us the opportunity to meet our new neighbors as we settled in after moving across town at the start of the pandemic.  Once we exhausted the "isn't the weather beautiful today" conversations, and the "what are you doing to entertain your kids all day" chit-chat, it opened the door to more meaningful conversations. And at times, more difficult conversations about the passing of a loved one or how to better talk about race with our kids. In 2020, we all shared the pandemic in common, and community was strengthened through difficult times. And as we turn a page into a new spring, community conversations remain just as essential.
This year, the Charlotte Mecklenburg Library Foundation will be celebrating National Library Week (April 4-10) and encouraging community support for local Library branches through the "Bookmark the Town" initiative.  This campaign encourages individuals to share a book recommendation by planting a yard sign. Through $15 donations, these yard signs will support the Library's vision to be "the essential connector of a thriving community of readers, leaders and learners."
A book recommendation can reveal a shared interest for a hobby; a new author and book series to explore; an insightful perspective on a topic you wanted to learn more about.  Strengthening our community and building relationships can be difficult, but it can also be easy.  It can start by sparking up a conversation while on a walk around your block, or by picking up a new book to read simply because your neighbor recommended it.
I'm proud to support the "Bookmark the Town" campaign, and excited to share my book recommendation while exploring a few new ones from those in my neighborhood. Whether you are new to the Library or an old friend, I hope you join me in the goal of planting 5,000 yard signs across Charlotte this spring. There is still a lot to learn from conversations with our neighbors, and no easier way to do it than by opening up a book and opening a new conversation. Together, let's #bookmarkthetown.
Anna Stallmann is a communications professional and Library volunteer. She lives in Charlotte with her husband and two young daughters, spending countless hours reading together.