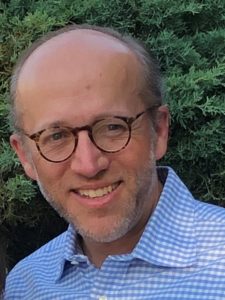 Library trustee and CommonSpark campaign cabinet member Joe Helweg listens as much as he reads. We asked the self-described "musical omnivore" what he's been listening to:
I've always been a musical omnivore – to a point that can be a bit odd.  I thoroughly enjoy exploring across musical genres, and over the years I've found artists and works I truly love in virtually every category.  My father was a huge jazz aficionado from his years in New York City during the late 1950's and early 1960's, and I was trained as a classical violinist, eventually studying at Aspen Music School and touring Eastern Europe with the Western Massachusetts Youth Symphony and the Amherst Ballet Company.  I think my father's love of jazz somehow made me aware that I was witnessing the birth of another incredible, African American art form in the hip hop records I heard on Philadelphia's hip hop and R&B radio stations during my early teens.  So I was the kid who would listen to Grandmaster Flash and the Furious Five on my Walkman while my mother drove me to orchestra practice – as I said, it gets a bit odd!
Despite my deep appreciation for jazz, hip hop and classical music, I've always found there is nothing quite as infectious as a well-constructed pop song, and over the years I've amassed thousands of records, discs and digital downloads of great rock & pop music.  An interesting journey in 2019 has been my relationship with country music.  Originally, Rolling Stones introduced me to Gram Parsons, and Gram Parsons led me to Emmylou Harris, the Byrds, Chris Hillman and a long love affair with the country rock genre.  I practically wore the needle off my turntable in college listening to records by the Eagles, Bob Dylan and Simon & Garfunkel, but I always kept to the rock "side of the line" when I would meander into country and folk music waters.  So I felt like Ken Burns was talking to me when he described the inspiration for making his brilliant Country Music documentary series released on PBS in the fall of 2019.  Watching that series became a really moving and inspiring experience for me, and it still has a big impact on the music I'm listening to.  Here are a few samples:
My Baby's Gone by The Louvin Brothers – In the Country Music documentary, Emmylou Harris describes her conversion from folk artist to country artist through her collaboration with Gram Parsons. She describes her first experience hearing the vocal harmonies of the Louvin Brothers singing so tightly together that you get a physical sense of vibration in your chest as you listen. I'd never realized the Gram Parsons songs I knew – like "Cash on the Barrel Head" – were actually Louvin Brothers songs. My Baby's Gone is a wonderful example of The Louvin Brothers' achingly beautiful vocal harmonies.
"The Chain" by the Highwomen – Another great country music convergence of 2019 was the arrival of the new supergroup (Amanda Shires, Brandi Carlyle, Maren Morris and Natalie Hemby) in the same year I was learning the catalogues of the original Highwaymen (Nelson, Cash, Jennings and Kristofferson) I've been a longtime fan of Jason Isbell and the Drive By Truckers, which led me to Amanda Shires. I originally got turned onto Brandi Carlyle through a much smaller act she produces called the Secret Sisters (sidenote: the Secret Sisters are brilliant … I'm very excited about their new album due in February 2020, and crossing my fingers they'll return to The Evening Muse).  Anyway, the Highwomen's self-titled album is wonderful, but their cover of Fleetwood Mac's "The Chain" for the soundtrack of the film The Kitchen is especially fantastic.  Lastly, if you want another incredible female country supergroup, check out The Trio of Dolly Parton, Emmylou Harris and Linda Ronstadt – especially their cover of Neil Young's "After the Gold Rush."
"New Kid In Town" by JD Souther – I've always thought that if I were asked for an example of a perfectly constructed pop song, I would play "New Kid In Town" by the Eagles. Until this year I didn't know that one of the co-writers of that classic song – along with other Eagles classics like "Best of My Love", "Victim of Love", and "Heartache Tonight" – is an amazing artist in his own right named JD Souther.  His debut album John David Souther is a great example of the Laurel Canyon sound of the early 1970's (check out "Kite Woman" or "How Long" – another Souther song the Eagles later covered). It's a testament to how many unbelievable artists were writing and performing in that period, that someone as talented as JD Souther slipped through the cracks as a performer. Fast forward to JD Souther's solo album Natural History in 2011 – his recreation of "New Kid" with an off-the-charts Mexican acoustic guitar accompaniment is one of my favorite finds of 2019.
"Winter" by Antonio Vivaldi and performed by Anne-Sophie Mutter – To show I haven't entirely forgotten my years as a classical violinist, I have to include my favorite classical track of late. Listening to Anne-Sophie Mutter's performance of Vivaldi's "Winter" always puts me in a state of near-disbelief at this woman's mastery of her craft.  For my money neither Jimi Hendrix nor Eddie Van Halen, both of whom I love, has any solo that can outshine the brilliance & speed of this track. My violin teacher told me people accused Antonio Vivaldi of being possessed by the devil when they heard his violin playing – the speed and ferocity of "Winter" demonstrate why.
Finally, I close with my love of covers of all varieties. I think covers are one of the most fun aspects of popular music – especially in the context of live shows. I am a member of an album club formed by a few friends who were inspired by their wives' book clubs. We get together to discuss albums instead of books. One of the members shared a Spotify playlist with me as an early Christmas gift…52 tracks and nearly half are obscure and fabulous covers. A few gems include the Beatles' "Dear Prudence" covered by The Five Stairsteps, and Blondie's "Heart of Glass" covered by Twisted Pine.  Enjoy!