Amount Maggie saves by borrowing this list from Charlotte Mecklenburg Library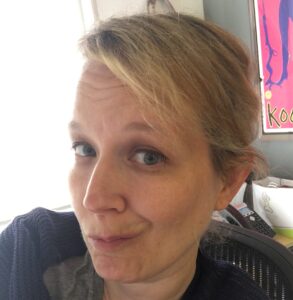 We asked Maggie Bean, longtime Library supporter and the #bookmarkthetown campaign's mastermind/graphic designer to share a few of her favorite reads:
The book I am featuring on my Bookmark the Town sign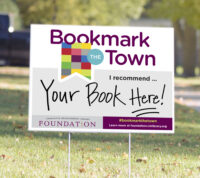 When this campaign started to come to life, I pretty quickly realized which book I wanted to recommend to the neighborhood: Thick and Other Essays by Tressie McMillam Cottom. Some of the truth bombs in this collection of essays left me speechless, shaking my head at my own blindness to the experience of Black women. I am gladly not the same person after reading this.
Books by Charlotteans (who coincidently I also consider friends)
Who knew there was so much talent in our town? My best buds and book club comrades Jeff Jackson and Gavin Edwards are not only wonderful humans, they are also incredible writers. For a start, check out Jeff's Mira Corpora and Gavin's Last Night at the Viper Room.
I thank Alisha Williams for 13-year-old Genesis' fresh and inspiring voice and for pulling me to the front of her Zumba class to dance to "Lip Gloss" together. A natural storyteller with radiant energy Alisha's Genesis Begins Again is one you and your daughter can share together.
A book about friendship, anchovies and black coffee
Speaking of friends, Patti Smith is on my dinner party "living or dead" wish list. Just Kids explores her friendship with artist Robert Mapplethorpe and their journey together as young artists in New York City. It also had me fondly remembering the terrible meals I concocted in my twenties with very little money and a bit of ingenuity (here's looking at you, Italian-style hot pot ramen.)
A book that is stained with the most bacon fat
My list would not be complete without a cookbook. The thing I miss the most these days is dinner parties. My friend Andy and I created a supper club called the ConVIVials where we have been cooking our way through Vivian Howards' Deep Run Roots, one recipe at a time.  (Be kind to library books. Keep away from spattering bacon.)
A book because I love British Murder Mysteries
This book is hard to find, and it's currently NOT at the Library! But you can always make suggestions to get books you want on the shelves. The Driver's Seat by Muriel Sparks is an addictive wild ride where you sit in the passenger's seat as the victim speeds toward her inevitable ending.
A book about dogs
Virginia Woolf wrote a book about Elizabeth Barrett Browning's dog Flush… from the dog's point of view. Plus, it's based on a true story! This one is for those of us who share our lives with four-legged fuzzballs. I share mine with two senior Chihuahuas, Violet and Clover Bean.
A book with the best cover ever
Do I occasionally pick up a book for its cover? Of course I do. I am a graphic designer by trade. The cover of My Year of Rest and Relaxation by Ottessa Moshfegh delights the eye, but the novel itself is a riveting read.
The book that started it all
As a kid I would hide in my closet with a flashlight and a book to avoid the endless list of chores my mom had planned for the weekend. Little House on the Prairie by Laura Ingalls Wilder — in fact her whole collection — sparked my lifelong love of books. Eventually my mom would find me, and I would have to go pick beans in the garden and vacuum the dining room. But I knew Laura would have done the same for her ma.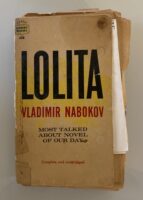 The book in my house with the most destroyed spine
I rarely read a book twice, but the twisted beauty of Lolita by Vladimir Nabokov has kept me coming back again and again. I still have the original dime store copy a friend's mom gave me in the 90s when I was living in Boston. I was immediately enraptured by Nabokov's artistry with the English language, discovering a different sense of words I thought I had already defined.
And something I couldn't find it anywhere… then found it at the Library!
I've been searching for the completely restored version of Metropolis by Fritz Lang — and it was at my library! Created almost 100 years ago in Germany during the Weimar period and perhaps the most famous film of the silent era, parts of this cinematic masterpiece were thought to be lost forever. But just a few years ago they were found in a museum in Buenos Aires and the director's original version was restored. How cool is that! And while you're exploring the vast and varied movies and documentaries available with Kanopy and your library card, be sure to check out another silent film great Buster Keaton. If you're a fan of physical comedy, this is your guy. We all need a good laugh these days.
Maggie is currently the Associate Director for Advancement at the Council for Children's Rights. A woman of many talents, she's also a graphic designer and copywriter, and has served in various creative and communications roles throughout her career. Maggie is a lifelong reader, longtime Library supporter, and the mastermind – and graphic designer – behind the Bookmark the Town campaign.