An Evening with Chef Bruce Moffett
April 23, 2019 at Town Brewing Company
A conversation with chef, restaurateur and cookbook author Bruce Moffett, moderated by local historian and foodie Dr. Tom Hanchett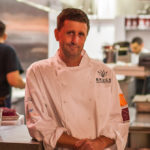 Chef Bruce Moffett grew up in Barrington, Rhode Island. After earning a degree in political science and briefly working the political circuit in D.C., Bruce decided his true passion lay in the culinary arts. He was formally trained at The Culinary Institute of America (CIA) in Hyde Park, NY, and after graduating with honors, Bruce gained restaurant experience in both Atlanta and Boston. In 2000, Bruce moved to Charlotte and opened his own restaurant, Barrington's. He was recognized as a James Beard Foundation Best Chef Southeast Nominee in 2009.
In 2013, Bruce expanded his culinary reign in Charlotte by launching Moffett Restaurant Group, which oversees three restaurants: Barrington's Restaurant (2000), Good Food on Montford (2009) and Stagioni (2013). His latest restaurant NC Red just opened in Plaza Midwood and Bruce is looking forward to opening Bao + Broth at Optimist Hall.
Bruce recently released his first cookbook, Bruce Moffett Cooks: A New England Chef in a New South Kitchen.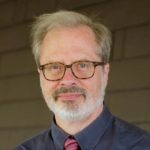 Dr. Tom Hanchett, moderator, retired after many years with Levine Museum of the New South and earlier with Charlotte Mecklenburg Historic Landmarks. But he hasn't given up work as a community historian. He writes a column on international restaurants for the Charlotte Observer, "Food From Home" gives tours including the ongoing "Charlotte in Black & White and More" for Community Building Initiative, and he lectures frequently on our city's history.