Authentic Leadership
August 9, 2018 at Camp North End
Hugh McColl and Braxton Winston reflected on their personal leadership styles and perspectives on the growth, evolution and future of our city.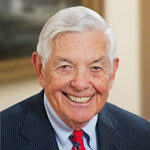 Hugh McColl Prior to co-founding McColl Partners, a middle-market mergers and acquisition advisory firm, in the fall of 2001, and Falfurrias Capital Partners, a middle-market private equity firm, in 2006, Mr. McColl served as Chairman and Chief Executive Officer of Bank of America. During his tenure as Chairman and CEO, Mr. McColl grew the institution more than fifty-fold, as the bank greatly expanded its offerings of financial products and services, entered new markets across the United States and around the world, and became an industry leader in retail, commercial, corporate and investment banking.
Since retiring from his 42-year career at Bank of America, he has also founded two fine art consulting firms: MME Fine Art in New York and McColl Fine Art in Charlotte, North Carolina.
McColl was born in Bennettsville, South Carolina. He earned a bachelor's degree in business administration at the University of North Carolina at Chapel Hill in 1957 and served as an officer in the U. S. Marine Corps from 1957-1959.
He is married to the former Jane Spratt of York, South Carolina. They have three children and eight grandchildren.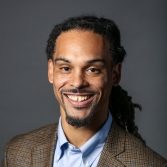 Braxton Winston was elected in 2017 as an at-large member and is serving his first term on city council.
Winston is a stagehand and grip and a member of Charlotte's thriving sports television and entertainment production community. He is a proud member of the International Alliance of Theatrical Stage Employees Union.
Winston is also an influential citizenjournalist, producing stories not covered by traditional media outlets and employing new models of citizen engagement.
Winston holds a bachelor's degree in anthropology from Davidson College, where he was a two-time letterman on the football team.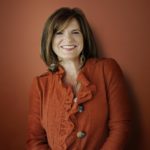 Jennifer Appleby, moderator, is president and chief creative officer of Wray Ward, the Charlotte region's largest marketing communications firm. Under her leadership, the agency has evolved its positioning and expanded its core service offerings, resulting in significant growth over the last five years.
Jennifer is passionate about Charlotte and giving back to the community, contributing thousands of hours of agency pro bono time to many of Charlotte's nonprofit organizations. In keeping with this philosophy, Jennifer has served in leadership positions on the boards of the Charlotte Chamber, Charlotte Center City Partners, ASC, the McColl Center for Art + Innovation, the CPCC Foundation Board and is a past board chair for the Charlotte Mecklenburg Library system.