"Surprise!"
It was a couple weeks after Betty Verner's 80th birthday, and her friends and family secretly gathered at a beach house on Bald Head Island to celebrate. After the initial shock wore off and the cake slices were passed around, it was time for presents.
"I was handed an envelope from the Library Foundation, and inside was letter saying an $8,000 donation was made in my honor," said Verner, "one thousand dollars for every decade I've been alive!"
Betty was moved to tears by this thoughtful gift from her son Ritch and daughter-in-law Susan. Currently a volunteer at the Matthews branch, she can't remember a time when the library wasn't part of her life.
"I have always loved to read," she recalled, "when I was a little girl, I would walk a half mile to my aunt's farm near Hickory when the book mobile would visit in the summer. I had to make sure I read 20 books and got my reading certificate."
Her love of books and libraries has followed Betty throughout her life – a love she shares with Ritch, Susan, and especially her granddaughter Catelyn.
"I take pictures of my favorite books and text them to Catelyn," said Betty, who has kept a running list of every book she has read the last 25 years.
"She says 'Mawmaw, I love the library so much. I want to buy all these books so that I'll have a library of my own one day.'"
Cynthia McDonald, Matthews branch manager, said the funds will go toward a new quiet zone specifically for patrons to easily plug in their laptops and work in a private space.
"I think it's a great idea," said Betty, "I'm always trying to be extra quiet when I go through the center area of the Library where people are working on their laptops. But sometimes the carts are so squeaky!"
When asked who her favorite writers are, she listed Mitch Albom, Christine Coble, David Baldacci and John Grisham as a few who never fail to capture her attention.
"I've never been bored a day in my life if I have a book in my hand." Wise words, Betty.
Betty's birthday beach party…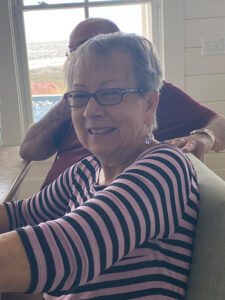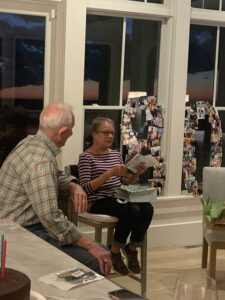 …and her binder of books!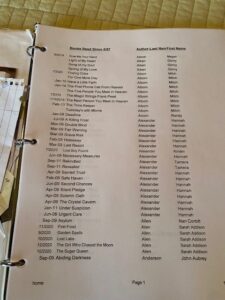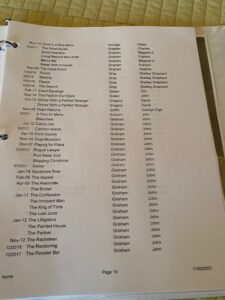 Read like Betty
with these titles from the Library's Collection