Charlotte Mecklenburg Library's Summer Break program is an annual tradition that goes back decades. The program is for all ages, but especially for students reading over the summer helps keep minds and imaginations engaged and prevent a "summer slide" in academic skills.
Last year, this community logged 5.9 million minutes – equivalent to over 11 years! – of Summer Break reading time.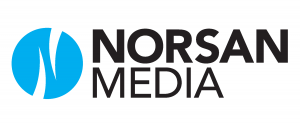 A Gift of Translation
This year, thanks to a new sponsorship from Norsan Media, more of our community will be able to participate. The Charlotte-based operator of radio, television, newspapers and festivals serving Hispanic communities across the Southeast is supporting the translation of Summer Break materials.
"We are so delighted to support the Library's initiative to translate their reading materials to Spanish," says Norsen Media President Natalia Sanchez. "We are hopeful this will open more doors for families to access all of the resources the Library has to offer."
Darrell Anderson, the Library's Marketing & Communications Specialist responsible for Summer Break promotions, adds "This gift ties directly with the Library's larger strategies around diversity, equity and inclusion. The Library is for everyone, and this helps eliminate a language barrier to be more inclusive in our messaging. With Norsan's support we'll be translating all our print and digital materials, as well and television and radio spots."
A History of Community Support
Summer Break is made possible primarily with County funding, augmented by private support. Library Foundation Deputy Director Karen Beach explains, "This program is a great illustration of ongoing community support. Wendy's, for example, has provided in-kind support – a free Frosty coupon for everyone who registers – for over twenty years. The Library Foundation invests as well, using funds designated for programming by individual donors."
Sign Up Today!
Summer Break 2021 begins June 7 and runs through August 14. Preregistration begins May 17.