If you've been on the Library Foundation's Facebook page over the last three weeks, you've likely seen it. Final Draught: Home Edition is a standing Tuesday and Thursday night date for many in our community and beyond.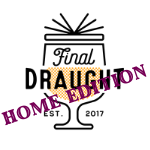 What began as an experiment in virtual programming has grown into an event featuring prominent authors, great books, and drawing an audience in the hundreds and thousands for live events and subsequent recordings. To date, readers have been "at home" with Kimmery Martin, Webb Hubbell, Marty Smith, Cathy Pickens, Mark de Castrique and Brendan Reichs.
The format is simple. Authors join an interviewer via video conference, and their conversation is streamed live to Facebook. Viewers on Facebook post questions, and the author addresses them on air. Feedback from audience members has been overwhelmingly positive – not only is the event an opportunity to participate in a live conversation with an author, it's also a glimpse into the author's home – often their home office, where the books we love to read take shape.
Final Draught: Home Edition celebrates National Library Week this week with Nicholas Graham and Cecilia Moore on Tuesday, April 21 and Karin Slaughter on Thursday, April 23. Stay home with us!