Amount Tracy can save by borrowing these 6 titles and taking 4 online classes through the Library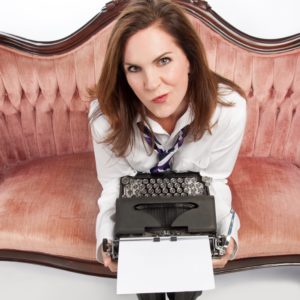 We've asked local author and Library supporter Tracy Curtis for a reading list a few times…and she's usually writing more than she's reading! But this time, we caught her with a full bookshelf and she responded:
So…you've caught me in a time of transition! Some of you may remember me as the former humor columnist for the Charlotte Observer and author of three published collections of that column. Since then, I wrote a novel and was signed by ICM literary agency in NY. But I'm learning the hard way that just because you have an agent, doesn't mean you'll get that big book deal! So I'm currently working on two limited series ideas for television, one of them based on my novel, as so many of our favorite books are now being adapted for TV.
That being said, my recent reading list reflects my interest in how stories are structured – because as much as I'm interested in the story being told, I'm even more curious about exactly how the author has chosen to take us on that journey. So here are a few of the books I've read and the interesting ways in which they were structured.
Daisy Jones and the Six, by Taylor Jenkins Reid
Structured as the transcript of a fictional music documentary, this novel is entirely comprised of dialogue. The story of the rise and fall of an iconic 1970s rock group is partly inspired by the author's experience growing up watching Fleetwood Mac performances on television. Think VH1 Behind the Music – getting to hear everybody's side of the sordid story, the secrets they kept, the emotional blows they suffered – while out on the road and on the stage at the height of the band's success. I really enjoyed the different recounting of the same stories! This novel is being adapted for television in a limited series on Amazon produced by Reese Witherspoon.
Nine Perfect Strangers, by Liane Moriarty
Liane Moriarty is no stranger to telling a story from a third person omniscient point of view. And author Lisa Scottoline's blurb on this novel is what sold me on it: "If three characters were good in Big Little Lies, nine are even better in Nine Perfect Strangers." The individual journeys of nine guests and three employees gathered in a remote health resort for ten days of self-reflection are each told from their own point of view, unfolding and intertwining as each character explores their own personal transformation. This too is being adapted for TV in a limited series starring Nicole Kidman and Melissa McCarthy on Hulu.
The Elephant in the Room, by Tommy Tomlinson
Broken down into a twelve-month calendar year, each chapter ends with Tomlinson's weight loss for that month and a tally of the weight loss for the year. Documenting his progress puts us on this journey with him, pulling for him every step of the way, as we flashback into his life growing up around good food and great stories. Anyone who used to read Tommy Tomlinson in the Charlotte Observer will appreciate his smooth and simple style of story-telling in his debut memoir. In January, Tommy announced he is working on his second book that will be about the Westminster Dog Show!
Untamed, by Glennon Doyle
With over 60 chapters, this memoir is more of a collection of short essays, some being only a page long. But some of the shortest chapters are the most compelling, often telling the story of an entire life experience in less than a page. Try doing that. It's a real talent to capture that much emotion in under 500 words, and the relatability of her experiences and her brilliant answers to inner conflict makes this feel like self-help of the more informed and impactful kind. This one has all the feels and I find myself rereading some of chapters over and over and over again.
The Queen of Hearts, by Kimmery Martin
Told in alternate points of view, the story unfolds in flashbacks between the crucial third year of medical school and the present day, brilliantly laying all the groundwork for the finale. Written by my friend and member of my writing group, this is a terrific medical drama about two friends facing the secrets of their past after the reappearance of the man who broke one of their hearts. Kimmery has just released her second novel The Antidote for Everything, which I have just started, and lemme tell ya, that first scene is a doozy! She is currently working on her third book in her three-book deal with Penguin Random House.
Before Anyone Else, by Leslie Hooten
No structural tricky here, just straight women's fiction, beautifully written by my dear friend, Leslie. A colorful story in every sense of the word, BAE is the journey of an ambitious restaurant designer who, while brilliant at transforming empty spaces into beautiful restaurants, fails at creating the blueprint of her own life. It's the first of what surely will be many wonderful novels. Caution: This book makes you want to eat out in a busy restaurant!
MasterClass
Beyond reading, I'm also listening! During my quarantine, I've taken the master writing classes of Aaron Sorkin, Shonda Rhimes, Judd Apatow and David Sedaris. They meticulously break down the rules of story and give detailed instruction in how to develop characters, do research, establish story arcs, create scenes and write captivating dialogue. If you're interested in knowing even more about the craft of storytelling and writing, I highly recommend this series.
My Books:
Trophy Mom: Hope Springs Maternal
Beach Bummed: Riding the Wave of Summer
Holidazed: Wrapping Your Brain Around Christmas