There were more people than chairs in the large community room at Beatties Ford Road Library on Sunday, February 18.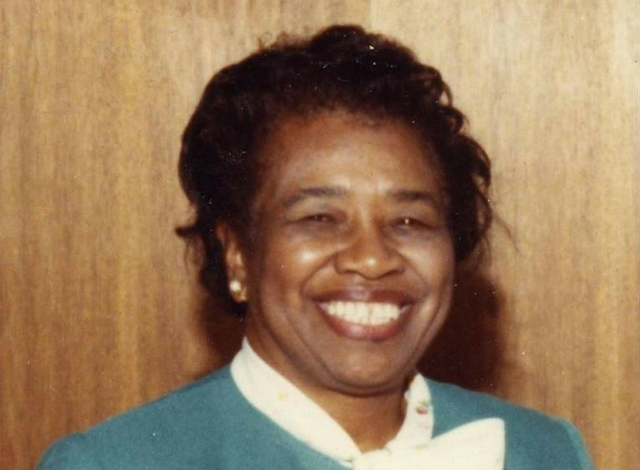 In an emotional ceremony, the location's original meeting room was rededicated as the Elizabeth S. Randolph Community Room, to honor the vocal advocate for schools and former member of the Library's Board of Trustees. As the first African American woman promoted to Charlotte-Mecklenburg Schools' central offices, Elizabeth "Libby" Randolph helped guide the district through a turbulent period of desegregation in the 1960's. Her service on the Library board included planning the 1989 addition to Main Library, and in 1993 she and other leaders in the African-American community played a decisive role in the construction of the Beatties Ford Road branch, which opened in 1997 and was expanded to become a regional library in 2011.
Before her death in 2004, Mrs. Randolph established an endowment to support non-profit programs that address African American concerns, and her legacy continues through the work of these organizations.
State Senator Joyce Waddell, School Board member Thelma Byers Bailey, Library Foundation board chair Linda Lockman-Brooks and many civic leaders and community members attended the rededication. The ceremony included an invocation delivered by Reverend Ricky Woods of First Baptist Church-West, followed by a heartfelt rendition of "Rise Up" by Dejah Oglesby and Desmond Taylor, teenagers who use the Beatties Ford Road Library daily. Library trustee Rob Harrington spoke on behalf of the Library's Board of Trustees and Congresswoman Alma Adams reflected on the role of African American women in our community over the years.
Throughout the room, framed images from Mrs. Randolph's book, An African American Album: The Black Experience in Charlotte and Mecklenburg County, were on display. Robinson-Spangler North Carolina Room historian Shelia Bumgarner offered background on this landmark volume of photographic history, published by the Library in 1992. "It's amazing how so much black history has been preserved," Mrs. Randolph once said about the book. "We are going to be able to celebrate a black history that has never been heard."
Elizabeth Randolph was a woman of many "firsts" and Doris Williams, President of Alpha Kappa Alpha sorority, Alpha Lambda Omega chapter, spoke about her role in the sorority and celebrated many of her "first" accomplishments in the greater community.
Perhaps one of the most remarkable speakers of the afternoon was Mrs. Rosalia Durant. The two were born only months apart in 1917, and Mrs. Durant spoke eloquently about a lifetime of friendship and making a difference for future generations.
The ceremony closed with a proclamation from the City of Charlotte, read by Councilman Justin Harlow, and the unveiling – to great applause – of the room's new sign.
Many thanks to Rosemary Lawrence, Krista Mann, David Singleton, Leonora Kaufmann, Dana Walters and Alecia Mitchell for planning this tribute. Charlotte Mecklenburg Library is forever grateful to Elizabeth S. Randolph for her lifetime of impact in our community, and honored to place her name next to ours.
"Elizabeth "Libby" Randolph was an inspiration to many, and naming a community room at the Beatties Ford Road Library is a fitting tribute to her enduring work to highlight and preserve the history of Charlotte's African American community, as well as her legacy as an educator and advocate for children."

Linda Lockman-Brooks, Foundation Board Chair