If you've attended a Library storytime, you know reading with children is much more than speaking the words on the page. Reading together builds language, vocabulary and comprehension – and caregivers who engage in active reading maximize those rewards.
Goal: Third Grade Readers
In 2014, a National Assessment of Educational Progress report revealed a literacy crisis with local implications: only 40% of third graders in Mecklenburg County were reading at grade level. The Belk Foundation convened concerned representatives from local foundations, businesses, the schools and the Library, and Read Charlotte was born, with a ten-year goal of raising third grade reading proficiency to 80%.
A critical piece of Read Charlotte's strategy is to teach parents and caregivers the importance of active reading, to build pre-literacy skills before children enter school. The Library has been a key partner to Read Charlotte from its inception, and as this awareness initiative launches, we are in a unique position to help.
Charlotte Mecklenburg Library will model active reading strategies in children's programs, reading support initiatives like Reading Buddies, and Summer Break activities. Also, look for active reading workshops for caregivers in Library locations and through Outreach in both English and Spanish. Workshops will provide families with simple tools – and books! – to make the most of time spent (actively!) reading at home.
The ABC's of Active Reading
Active reading can be broken down into three simple steps:
Ask open-ended questions to get children talking about the book. "What do you think will happen next?"
Build vocabulary by demonstrating new words. Don't just read whisper…actually whisper!
Connect to a child's world. Ask what the story makes them think about
By the Numbers
The Library will provide 100 active reading workshops in 2017, serving 2,000 families
Each month, active reading strategies will reach nearly 14,000 participants in approximately 810 Library storytimes.
"We're excited to partner with the Charlotte Mecklenburg Library to develop and pilot active reading workshops. This collaboration will inform our work across Mecklenburg County."

                  -Munro Richardson, Ph.D., Executive Director, Read Charlotte
Active Reading is provided in partnership with: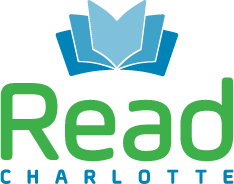 And made possible with the additional generous support of: