Amount Dr. Perry-Graves saves by borrowing this list from Charlotte Mecklenburg Library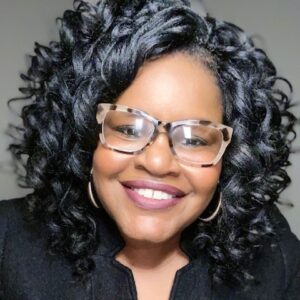 As the new statewide Executive Director for Teach for America (TFA), North Carolina—a non-profit with the mission of finding, developing, and supporting a diverse network of leaders working together to end educational inequity—it's likely not a surprise that my reading focus this year has skewed more broadly towards leadership development. I've always gravitated towards non-fiction, but you'll find a good variety in my top reads from this past year; from memoir, to change management, to spiritual development, and everything in between, there's a little something for everyone here! I love learning from other people's experiences and stories, and my podcasts of choice reflect that as well through spotlights and interviews with a broad array of leaders—local teachers, entrepreneurs, authors, non-profit directors, and more.
BOOKS
Feeding the Soul, by Tabitha Brown: This is the best sort of memoir: inspiring, funny, and brimming with interesting stories. An added bonus are the tasty vegan recipes sprinkled throughout. 
The Art of Gathering, by Priya Parker: Reading this book during a global pandemic that has transformed how we gather might seem a bit counterintuitive, but the lessons and ideas laid out by Parker remain relevant and applicable to the full spectrum of gatherings–be it in-person or virtual, large or small, socially distanced, or in close quarters.  
Think Again, by Adam Grant: This book helped me recognize the vital importance of intentionally cultivating the ability to rethink. As a lifelong learner, Grant's wholehearted embrace of mental flexibility resonated with me deeply.  
The Ruthless Elimination of Hurry, by John Comer: Comer offers a holistic and practical guide for living a more grounded, balanced, intentional — and, yes, you guessed it — slower pace of life. 
The Speed of Trust, by Stephen M.R. Covey: A neo-classic that makes a compelling case that establishing trust is an absolutely essential skill for any leader and organization.
Emergent Strategy, Shaping Change, Changing Worlds, by Adrienne M. Brown: This enlightening book is, at its core, a meditation on the human ability to change. Brown, a scholar of Octavia Butler and self-described "social justice facilitator and healer," doesn't shy away from hard questions.   
PODCASTS 
Unlocking Us, Brene Brown: I travel across North Carolina a great deal for my role and this podcast has kept me company on the road many times over. I love the thoughtful questions Brene asks her guests and the hope-filled insight she provides. 
How I Built This, Guy Raz: This podcast unpacks the origin stories of a multitude of well-revered companies, organizations, and non-profits via interviews with the founders. They are fascinating! Be sure to check out the episode featuring TFA's founder, Wendy Kopp. 
Hope Starts Here, EDNC: Alli Lindenberg, EdNC's multimedia reporter, started this aptly-named show in the spring of 2020 as a "response to the overwhelming stress news can cause during times of crisis." If there was ever a time we needed more stories of hope, it's now. 
Tarheel Teachers at Home: A podcast aimed at elevating the voices of teacher leaders across our state? Count me in. 
Dr. Monique Perry-Graves is an award-winning leader, educator, speaker, and author. As of June 2021, she is the first statewide Executive Director for Teach for America (TFA), North Carolina. In this role, Perry-Graves is serving as the chief executive for the state in support of TFA's mission to find, develop, and support a diverse network of leaders working together to end educational inequity and leading over 50 TFA staff across the state. She is a proud graduate of North Carolina Central University where she earned her undergraduate degree in English. Perry-Graves continued her educational pursuits by earning a master's degree in strategic communications and leadership from Seton Hall University. She then earned a doctorate in higher education administration from the University of Florida.