The Tao of Bill Murray with Gavin Edwards
August 13, 2019 at Town Brewing Company
Featured a presentation by New York Times best-selling author Gavin Edwards about his lifelong fascination with Bill Murray and his book, The Tao of Bill Murray: Real-Life Stories of Joy, Enlightenment, and Party Crashing.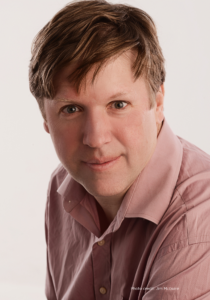 Gavin Edwards is the New York Times best-selling author of twelve books, including The Tao of Bill Murray, Last Night at the Viper Room, The World According to Tom Hanks, the 'Scuse Me While I Kiss This Guy series of misheard-lyrics collections, and Kindness and Wonder: Why Mister Rogers Matters Now More Than Ever. A longtime contributor at Rolling Stone, he has written for the New York Times, Wired, Billboard, Details, and GQ; and has appeared on the Today show, Entertainment Tonight, and Jeopardy! He's also moonlighted as a game designer, a photographer, and a demolition derby driver. He's lived in Charlotte since 2015.