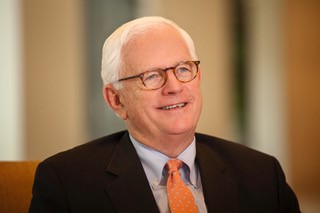 This year, we welcomed four new members to the Library Foundation's board…and of course we asked what they're reading! Gene Cochrane shared what's on his bookshelf these days:
Unbelievable: My Front Row Seat to the Craziest Campaign in American History, by Katy Tur
The book is her account of being assigned to the Trump campaign and following the course of events until the election.
Y is for Yesterday, by Sue Grafton
Yes, I admit to enjoying the series.
Enchantment: The Life of Audrey Hepburn, by Donald Spoto
She is  probably my favorite actress but I admire her "post film"  work in hunger relief work she did in so many places around the globe.
The Book Thieves: The Nazi Looting of Europe's Libraries, by Anders Rydell
If anyone read or saw the movie " Monument Men", this is a similar story of locating stolen books, manuscripts and pamphlets – and the recovery process that continues today.
Color and Character, by Pamela Grundy
A great summary of the history of West Charlotte High School and Charlotte public education from the late 1960's to current day. I found it particularly interesting since my two daughters are graduates of West Charlotte.
Richard Nixon: The Life,  by John Farrell
I have just begun reading this book. I admit to not being a fan of Nixon during his years as president, but the book provides interesting insights into the personality of the man and his moves to becoming president.
…and all of the Daniel Silva novels!