Amount Haley saves by borrowing this list from Charlotte Mecklenburg Library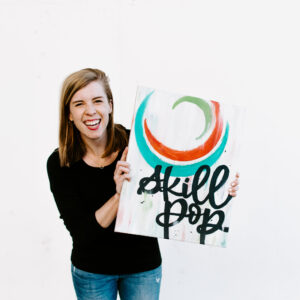 The founder and CEO of SkillPop learns from books – all kinds of books:
So far this year I've read a mix of page-turning fiction and memoir, with a few productivity-focused picks mixed in. I'm a big believer in being able to learn from all kinds of books, not just nonfiction; my favorites tend to be well-written fiction that makes me think about something in a new way. I get most of my recommendations from pop-culture podcasts and Anne Bogel's blog; I also joined a book club in the last year (we've met outside during the pandemic) that's been a huge reading life win!
Top reads of 2021 (so far) –
Bad Blood: Secrets and Lies in a Silicon Valley Startup, by John Carreyou: One review said this nonfiction book "reads like a thriller" and they nailed it. I could not put it down and kept reacting out loud ( you may have heard me shout "Holy cow!", even though I've heard the Theranos story before.) It's great timing to pick this one up with the Elizabeth Holmes trial happening right now.
Crying in H Mart, by Michelle Zauner: I texted a friend 5 chapters in to ask, "Does this stay sad the whole time?" Yes, it kind of does. A beautiful and incredibly written memoir, but grab the tissues.
The Push, by Ashley Audrain: I wouldn't blanket recommend this to everyone – it's intense, somewhat disturbing and definitely shook me up a little (check the trigger warnings). But I couldn't stop reading and it's stuck with me for a long time.
Nothing to See Here, by Kevin Wilson: I read most of my books via Kindle or hard copy, but this was a fantastic audiobook listen on a cross-country trip my husband and I took to Denver, Colorado this summer. It was engaging for both of us, surprisingly funny, and off-the-beaten-path. A quirky delight.  **Sidenote: Also a featured author at Verse & Vino 2019.
Money Rock: A Family's Story of Cocaine, Race, and Ambition in the New South, by former Observer reporter Pam Kelly: This one wasn't on my radar until it was my book club's September pick and it blew me away. A fascinating, informative, and eye-opening story that everyone in Charlotte should read.
The Last Thing He Told Me, by Laura Dave: This one was pure fun and the hold lines are long for a reason. I devoured it in a day! Impossible to put down and an absolute delight.
Coming up next –