Amount Helen saves by borrowing this list from Charlotte Mecklenburg Library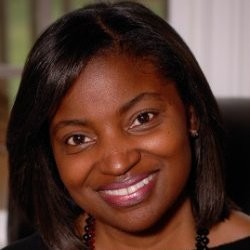 We asked Library Foundation board second vice-chair Helen Hope Kimbrough what she's been reading, personally and with her book club:
In this unprecedented year, I felt a need to get back to my roots and dared to start a book club again. When I lived in New Jersey almost 13 years ago, I led a fierce book club with approximately 25 women. How I missed the camaraderie of book discussions with varying ideas and perspectives, and the overwhelming laughter.
So, I posed a question on Instagram in October 2020 to see if there was any interest in starting a book club on Zoom. And thankfully, a small group of women were prepared to take the plunge with me.
Books we've read so far include:
Black Bottom Saints, by Alice Randall
This literary novel was featured at Verse and Vino 2020 and pays tribute to Detroit's legendary neighborhood influenced by jazz, sports, and politics. It was great to read about local heroes from the "neighborhood" who became larger than life global figures.
The Memo: What Women of Color Need To Know To Secure A Seat At The Table, by Minda Harts
A career guide specifically for women of color. This book offers insight on women of color who are not being equally valued, considered, and promoted within the workplace. Harts shares a blueprint on how to navigate corporate systems with candor, wit, and musical influences. She also discusses the importance of Success Partners (not just Allies), Career Coaches, and more.
If you liked Sheryl Sandberg's book, Lean In, then give this book a read.
An American Marriage, by Tayari Jones
This is a love story of newlyweds (Roy and Celestial) who find themselves at the wrong place at the wrong time. Roy is wrongly convicted of a crime, and his wife, Celestial, must navigate a new normal during his incarceration. While Roy's life stays in place and is filled with loss on varying levels, his wife's career thrives and she falls in love with her childhood friend, Andre. Roy's ruling is eventually overturned, and he is released after five years of imprisonment looking to get his life back.
This book has so many twists and turns. And the resounding question is: could you stay devoted to marriage in a similar situation?
Outside the book club:
I am reading the most read book in the world…The Bible. I'm reading Genesis from the Old Testament and Matthews and Mark from the New Testament. Throughout my life, I've read these passages before. Yet every time I re-read them, I get new meaning and fresh revelation. What a gift!
I am also reading My Life, My Love, My Legacy, by Coretta Scott King. I am learning more about the bravery and courage of Coretta Scott King and how she was able to withstand the line of fire in so many poignant moments of her life. Ms. King states, "We cannot know how far we can soar until we are tested." During crises, she became stronger. Her faith, belief, and inner strength gave her the ability to rise. Plus, Ms. King had an inner calling too just like her husband, Martin Luther King, Jr.
About Helen Hope Kimbrough
Helen is a reading evangelist, literacy advocate, & racial equity champion. She journeyed into writing and publishing children's books because she was unable to find books with diverse characters especially for boys of color. In 2005, she founded her independent publishing company, AK Classics LLC, to create relatable and cultural content for children and families of color.